Your Knee Pain Can Be Treated By Our Chiropractors
You're able to walk, run, kneel, and climb thanks to the knee joint. So, what should you do when pain strikes the knee? You can definitely visit CoreHealth Wellness for treatment. We are your local chiropractor in Oak Lawn and Dallas, TX, offering natural relief for joint and spine-related pain. Many patients prefer chiropractic care to traditional medical care because there are no drugs or surgeries involved.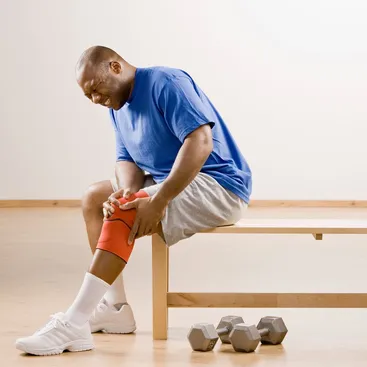 How the Knee Works
The knee is one of the largest and most overused joints in the body. It features the knee joints, thigh bone (femur), shinbone (tibia), and kneecap (patella). This complex system of bones and joints allows you to bend, extend, and perform other knee movements. However, the knee is prone to injury, trauma, and medical conditions since it remains in constant use and supports upper body weight.
Common Knee Pain Causes
Pain is common from knee injuries caused by repetitive use or athletic activities as well as degenerative conditions like osteoarthritis. Other common causes include tendon, ligament, or cartilage tear, kneecap fracture or dislocation, and the following:
• Iliotibial band syndrome
• Knee bursitis (inflamed bursae)
• Referred pain from the back or hips
• Gait problems like plantar fasciitis
• Excess pressure on the joint from obesity or physical imbalances
Typical Symptoms
The patient may feel a dull or sharp searing pain on the inside, outside, or around the knee, which can limit movement in some cases. Other common symptoms include:
• Deformed joints
• Knee locking, clicking, or grinding
• Soreness, swelling, stiffness, or tenderness
• Unable to straighten or bend the knee
• Trouble bearing weight on the affected leg
How Our Chiropractors in Oak Lawn and Dallas, TX, Treats Knee Pain
We will first examine your knee, spine, and feet to determine the cause of the symptoms. Based on the findings, Dr. Peay, Dr. Jones, or Dr. Rogers may recommend one or more of the following natural treatment methods:
Chiropractic Adjustments: Chiropractic adjustments of the knee or spine can alleviate pain, swelling, inflammation, and other symptoms. Your chiropractor may use his hands or a small tool called an Activator to gently reposition a dislocated knee joint. Spinal adjustments involve realigning the spinal joints to correct upper body physical imbalances that put stress on the knee. Imbalances affecting the foot, such as plantar fasciitis, can be corrected with foot orthotics.
Other Healing Therapies: Massage therapy and corrective exercises are used to reduce pain, swelling, and inflammation. Exercising the joints help with strengthening and repair.
Manage Your Pain Today
Don't let pain stop or limit life's activities. Get on the move again with natural treatment at CoreHealth Wellness. Our office is conveniently in Oak Lawn, serving Dallas, TX, and surrounding areas. Visit or call us at (214) 219-3300 to set up an appointment with our chiropractors.