Chiropractic Care During Pregnancy
It's not a secret that a female's body goes through incredible changes during pregnancy. Women can suffer from a variety of conditions during their pregnancies that can make them miserable and painful. Fortunately, chiropractic care is available for expecting mothers during this exciting and joyful time. Just visit CoreHealth Wellness Center in Dallas, TX. Drs. Eric Peay, Jason Jones, and Robert Rogers are here for all your maternal needs. Let's take a closer look at some of the conditions that you may face during pregnancy and how we can help.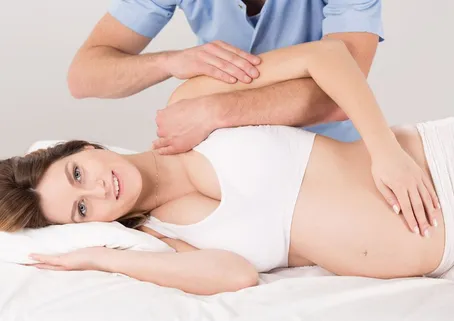 Common Pregnancy Complications and Chiropractic Care
The body will go through many changes during pregnancy, both hormonally and physically. These changes can affect the musculoskeletal system, comfort level, and the baby's position in the womb. They can even curve the spine, cause pain, reduce range of motion, make the joints weak, and affect sleep.
A misaligned pelvis can make the space where the baby grows small, complicating the development process and leading to birth defects. It can also increase the chance of a breech birth or cesarean surgery.
With chiropractic care, we can help ease your symptoms and reduce the risk of needing to give birth through surgery. Not only is chiropractic therapies safe for you and your growing baby, but it is also very effective. Our Dallas chiropractors can even accommodate your treatments so that no pressure is added to your belly.
How Our Dallas Chiropractor Can Help
At our Dallas chiropractic center, we are trained to provide expecting mothers with services to make their pregnancies comfortable and less painful. Our prenatal services allow us to:
• Reduce symptoms that come with pregnancy
• Relieve joint, neck, and lower back pain
• Lessen the chance of having a cesarean delivery
• Reduce labor and delivery time
• Improve sense of well-being and health during and after pregnancy
Most importantly, we can help your body to function naturally without medication.
Your Chiropractor in Dallas, TX, For Prenatal Care
At CoreHealth Wellness Center, near Oaklawn, our experienced and knowledgeable staff is here to ensure you are healthy throughout your pregnancy. We have been serving the area for years, and we want to be your Dallas chiropractic center of choice for prenatal care. Give us a call today at (214) 219-3300 to schedule your appointment with Drs. Eric Peay, Jason Jones, or Robert Rogers. We are more than happy to help you through your pregnancy.